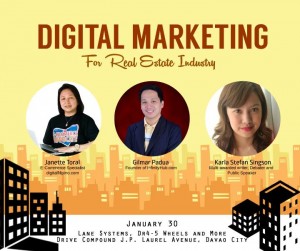 Real estate service professionals are invited to take part in this exclusive boot camp that aims to tackle how digital marketing can be useful to promote real estate online. my essay writer will be on January 30, 2015 at Lane Systems, Dr4-5 Wheels and More Drive Compound, JP Laurel Avenue Davao City from 9:00 AM to 5:00 PM. (Registration starts at 8 AM)
This learning program will be conducted with Karla Singson (PREP Davao) and Gilmar Padua (Infinity Hub).
Target audience:
Aspiring and current real estate service practitioners (licensed broker, appraiser, consultant or salesperson).
Real estate developers trying to build a database that services external customers and internal agents. Those who would like to build a site with a bigger database back-end meant for external customers and internal agents.
Agenda:
This 1-day session covers the following:
Morning session:
I. Online business model for Real Estate selling
II. Tools and Services every Real Estate Professional must know
III.Rules of engagement in advertising online in reference to the Real Estate Service Act
IV. Generating traffic, leads, inquiries from Search Engine results
V. Educate: Creating a Website and Blog focused on Buyer Needs
Afternoon session:
VI. Internet Advertising – Process Flow in Marketing Online
VII. Customer Relationship Management
VIII. Build Relationships with Email Marketing
IX: Social Media Marketing
X. Hiring a Virtual Assistant
XI. Getting Sellers and Helping them online
REGISTRATION
The EARLY BIRD fee for this training is P2,500; it shall apply from January 17 to January 29, 2015.
Walk-in registration rate is P3,000.
Note that PREP-KSS Events and Promotions will issue an official receipt to recognize your payment on January 30, 2015.
For inquiries about this boot camp, contact Janette Toral at 0917-4490011. For Davao-based inquiries, contact Karla Singson at 0933-9734990.
INTERESTED? Fill up the form at the bottom of THIS LINK to officially register and receive billing for this bootcamp. Thank you and tell all your real estate friends! 🙂